Do you remember where you were in 2012?
This was the year Microsoft released Windows 8, London 2012 delivered an inspired Olympic and Paralympic Games, and The Avengers grossed 1.5 billion USD worldwide at the box office. It was also when Wiz-Team was born – quite a year!
Today, to-the-date, Wiz-Team officially turns 10 years old. On 19 December 2012, Wiz-Team founder Johann Woringer created the Swiss-based company which literally started as a three-man project. 
Founder and CEO Johann recalls:
"I had been working in events for a few years and was frustrated by the fact that there didn't seem to be a tool in the industry to help me manage the data we collected.  So, I decided to build my own with the help from some of my closest friends.  
What started as a goal to make my personal day-to-day life easier as an event manager has grown beyond my wildest imagination. Here we are, 10-years later, serving and empowering event managers around the globe."
Wiz-Team has come a long way…from a team of three in 2012 to 52 employees today; and from a custom build of File Maker to offering industry-leading technologies through our all-in-one event management platform Event-Works.
We've grown to do much more than building smart event management software. We pair technology with our operational know-how and offer personalised delivery services to event managers across the industry from General Assemblies of 1200 delegates, to Main Accreditation Centres producing 500K accreditations, to European Institutions welcoming over 1.5 million visitors annually.
We could not be prouder of what we have built as a team today, and the passion we share for what we can do together tomorrow.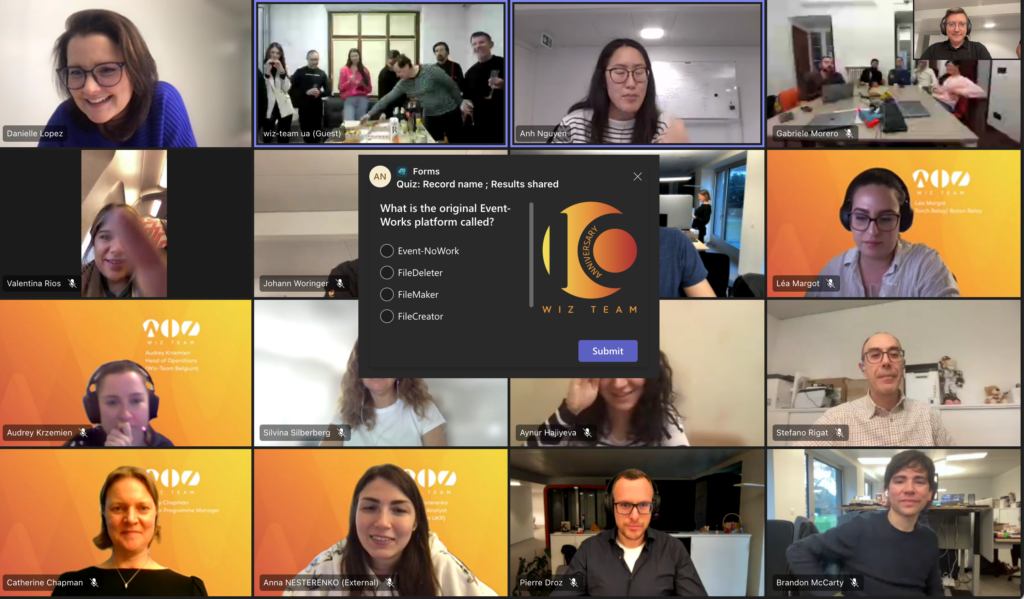 Today we celebrate ALL our team members who make Wiz-Team so special; AND all our partners, friends, clients, and supporters who have joined us on this epic journey. To you, all we raise a glass and reflect on this extraordinary journey, on a record setting 10th year, and to what the next 10 years will bring to Wiz-Team.

If you are interested in learning more about Event-Works and its applications, get in touch.
#WizTech #EventWorks #EventManagement