Wiz-Team is currently operating at the other side of the globe, helping to deliver the Northern Marianas Pacific Mini Games 2022 as official Games Management Software solution provider. The multi-sport event, which will kick off tomorrow, will bring together over 1000 top athletes from 20 countries across 9 sports and take place from 17 to 25 June on the islands of Saipan, Rota, and Tinian, in the Northern Marianas.

Johann Woringer, CEO of Wiz-Team, is on site and said: "We have supported different events in Oceania before, but this is our first time at the Pacific Mini Games. Together with our delivery partner IGNITX and the great team within the Organising Committee, we have been supporting a wide range of services led by our all-in-one event management platform Event-Works. Behind the scenes, everything is set for a week of great sporting action in this beautiful place."
In the months leading up to the event, Event-Works foundational and sport modules have supported the registration, accreditation, and sport entries process for 20 delegations from across the Oceania region.  Additionally, our centralised data management tool is making it easy for our Pacific Mini Games partners to effectively manage accommodations, arrivals and departures, and session planning for the over 3'000 attendees expected.
Andrew Minogue, CEO, of the Pacific Games Council added; "We are very pleased to be working with Wiz-Team and implementing their software, Event-Works, as our GMS to run this years' Northern Marianas Pacific Mini Games 2022.  Their flexible and easy-to-use solution provide us the tools we need to seamlessly collect and manage Games data across the participants' entire journey – from registration to departures!  We are eager to leverage this one-stop-shop approach to GMS to deliver a seamless and consistent experience for all our delegations joining us in the Northern Marianas this week." 
We are also enhancing the Pacific Mini Games' 2022 participant experience through the activation of our EW ToGo delegate app which will ensure the event's latest programme, logistical details, session information, and communications is right at the fingertips of every attendee.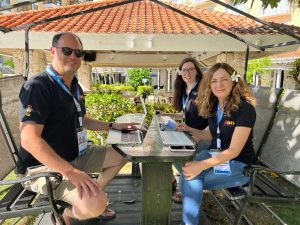 We very much look forward to not only delivering this exceptional event alongside our long-time partners and friends at ONOC, but joining in the celebration of competition and athletic excellence in one of the most beautiful places in the world!