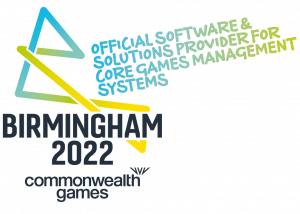 With one week to go to Opening Ceremony of the Birmingham 2022 Commonwealth Games, the Queen's Baton has nearly completed its global journey passing through thousands of hands across the Commonwealth. Yesterday, some of those hands belonged to Wiz-Team! 
Yesterday, in Tamworth, Staffordshire, just north of Birmingham, Wiz-Team proudly participated in the Birmingham 2022 Queen's Baton Relay. Founder and CEO of Wiz-Team Johann Woringer, Wiz-Team Event Assistant Léa Margot, and Deloitte's Managing Partner of Olympic, Paralympic and Major Events Practice John Tweardy experienced the thrill of being a part of the Baton's epic journey.
Of the three Wiz-Team Batonbearers, Léa was the first to hit the ground running – a poignant lead for one of Wiz-Team's longest-standing employees. Léa shares a special connection to this event as she oversaw the delivery of the solution which provided the Batonbearer nominations portal the route planning and the operations of the Queen's Baton Relay. It's fair to say she knows every detail of this special undertaking! 
After her run with the Queen's Baton, Léa shared: 
"What an amazing experience to be part of the Queen's Baton Relay on the ground and represent Wiz-Team! It is fantastic to see how all the work that goes into the preparation and delivery of a digital solution translates into a unique real-time experience for the participants and fans, including myself. It's my first time partaking in such an event and the energy is just incredible, you really feel the community spirit all around."
Léa then passed the Baton to our colleague Johann, who has spent the last decade building a company that seeks to build a better future for sport event managers through innovative and inspiring technology. "Our solutions are developed with the goal of bringing people together," shared Wiz-Team's Founder and CEO. "The Birmingham 2022 Queen's Baton Relay is an excellent example of how this comes to life". 
He added: "I am very grateful for the exceptional opportunity to experience this first-hand today. It's without question a special moment and milestone for Wiz-Team on the final sprint towards the Birmingham 2022 Commonwealth Games."
Johann has worked on delivering digital solutions for Batonbearer nominations and route planning operations for international Torch and Baton Relay projects since 2015. As Official Software and Solutions Provider for Core Games Management for Birmingham 2022, Wiz-Team and its comprehensive Games management software solution Event-Works provides the platform sitting behind Birmingham 2022's accreditation, access control, and sport entries and qualifications functional areas.
Finally, following in Johann's footsteps was John Tweardy, a lifetime sports enthusiast, and a leader at Deloitte's Sports Practice – a strategic partner of Wiz-Team. Participating in the Queen's Baton Relay has been a once in a lifetime experience for him: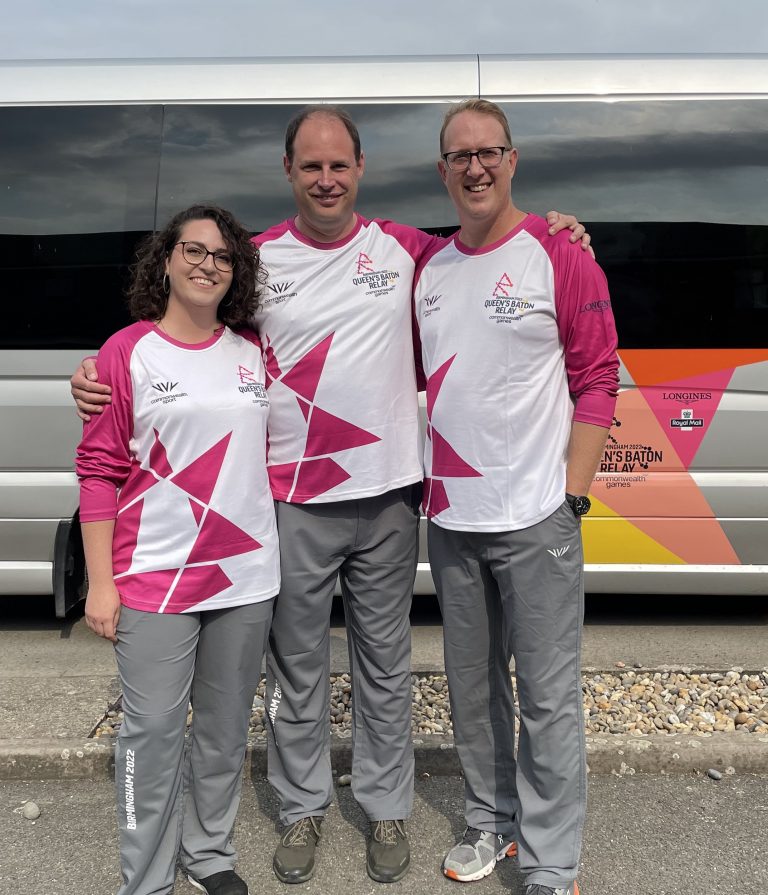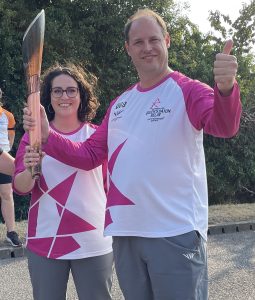 "Carrying the Baton was a great honor and although a small act in the grand scheme of the Games, you feel part of the rich tradition of the Commonwealth and the anticipation of the start just a few days away.  It makes it even more special to know that Wiz-team are behind the technology and logistics to make it happen.  That is the real impact!"
Earlier this month, Wiz-Team's Advisory Board member Keith Carter, a truly outstanding personality who has been instrumental in the growth of Wiz-Team who had to re-adjust to life in a wheelchair after a ski accident a few years ago, also had to opportunity to carry the Baton in his hometown Cambridge.
The Birmingham 2022 Queen's Baton Relay has been on an epic journey across the Commonwealth since October 2021, visiting all 72 Commonwealth nations and territories. Celebrating, connecting, and exciting communities in the run up to the Birmingham 2022 Commonwealth Games, the Queen's Baton Relay will have covered approximately 140,000 km upon its conclusion at the Opening Ceremony of the Games later this week, on 28 July 2022.